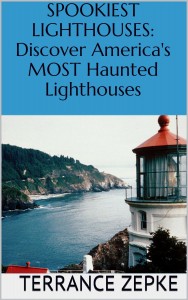 MY CHRISTMAS GIFT TO YOU…
SPOOKIEST LIGHTHOUSES reveals the most haunted lighthouses in America. Paranormal activity ranges from the frequent smell of cigar smoke to piano music heard inside abandoned lighthouses where there is no piano or radio! Most of these historic sites are open to the public and some even offer ghost tours and investigations. In addition to the paranormal discussion, a brief history, photographs and detailed visitor information are included in every chapter.
Condemned prisoners were executed here…their anguished screams can still be heard at Execution Rocks Lighthouse (New York).
Thousands of Confederate soldiers died while imprisoned at Point Lookout Lighthouse (Maryland) during the Civil War. A paranormal investigation captured twenty-four different voices cursing, moaning, and saying things such as "Help!" and "Bad Shape!" on digital recorders. [click to continue…]